RTJ GOLF TRAIL AT MUSCLE SHOALS
MUSCLE SHOALS | 36 HOLES
The Robert Trent Jones Golf Trail at The Shoals is home to two 18-hole championship courses and sits high above Wilson Lake on the Tennessee River.

The Fighting Joe course at The Shoals was the first Trail course to break 8,000 yards, measuring some 8,092 yards from the black tees. Travel + Leisure Golf named Fighting Joe one of the top new courses in 2004 for good reason. Long-hitters here will experience a test of champions, but from the correct tee box, all players will enjoy world-class golf.

The second course, the Schoolmaster (named for President Woodrow Wilson, who was responsible for getting Wilson Dam built and was also known as "The Schoolmaster" of politics), opened in 2005. It's hard to beat the beauty that the 18th hole holds on the high bluffs over the river, but the waterfall guarding the 2nd green sure comes close.

The Couples Championship is held at The Shoals each September and is limited to the first 56 teams.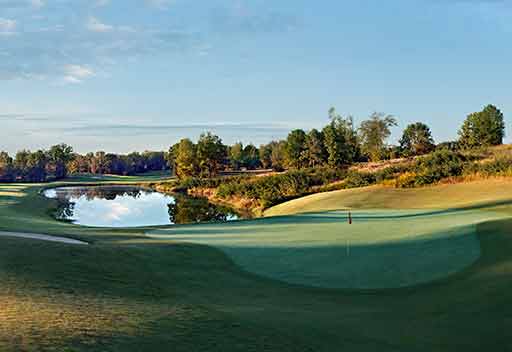 FIGHTING JOE
Course Tour
Bordered by dunes-like mounds and tall grasses, Fighting Joe, with wide fairways, large and beautifully maintained bent grass greens, can play long, really long if you play the wrong set of tees, but this course is simply good, straightforward golf. You can see where you're going. The question is...can you get there?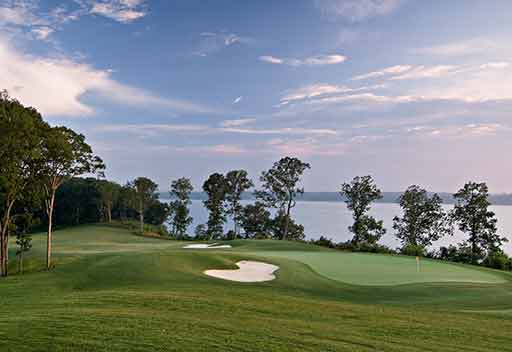 SCHOOLMASTER
Course Tour
The tree-lined Schoolmaster is a shotmaker's golf course with narrower fairways, demanding approaches to well-protected bent grass greens, and still a length of nearly 8,000 yards! Make sure you've done your homework well, for the Schoolmaster will certainly test all of your skills.
UPCOMING PUBLIC TOURNAMENTS
Ed Borden & Steve Nesbitt Memorial Benefitting the Helen Keller Hospital Foundation
October 19-20, 2023 | Entry Form
THE RESORT COLLECTION ON THE RTJ GOLF TRAIL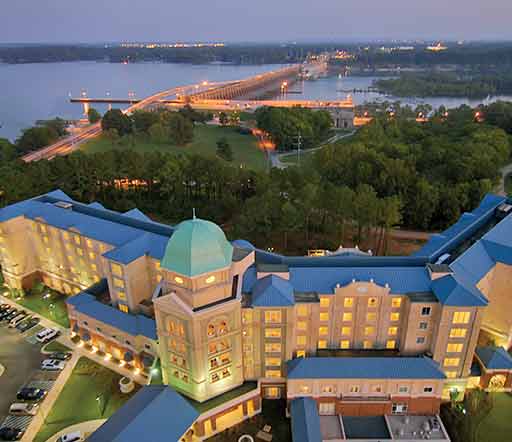 Discover a hotel where conservative elegance and nature's beauty create a memorable experience. Guest rooms feature comfortable luxury and modern conveniences, as well as private balconies providing stunning views of the river.
1-800-593-6450 or 256-246-3600
OTHER LODGING OPTIONS
EVENT REQUEST
Relax...coordinating an event at The Shoals is much easier than you think! Our staff has experience planning golf events that range from as small as a 16 player group outing to as large as a 300+ player corporate tournament, as well as everything in between. With the array of other options we can also provide, including food & beverage, contests, and scoring, our staff has what it takes to make your golfing experience match all your expectations.

But just because we are a golf course does not mean that is all that we do! We are also available for non-golf related functions, including weddings and receptions, parties, reunions, wedding/baby showers, corporate meetings...the possibilities are endless! Let us cater your event to meet your exact needs as you sit back and enjoy the beautiful landscape surrounding you and your guests.

Please submit the form below and a member of our staff will contact you.


MAINTENANCE SCHEDULE
Maintenance practices are weather dependent; changes may occur last minute as a result. Understand we will make every effort to follow the schedule presented. Please contact the golf shop to inquire relative to any adjustments.

The driving range will be closed for at least part of the day each Tuesday.
2023
Date
Course
Activity
Recovery
November 13-17
Fighting Joe
Greens aerification
4 days
November 27-December 1
Schoolmaster
Greens aerification
4 days
2024
Date
Course
Activity
Recovery
February 12-16
Schoolmaster
Greens aerification
17 days
February 19-21
Fighting Joe
Greens aerification
3 days
May 20-24
Fighting Joe
Greens aerification
14 days
June 3-7
Schoolmaster
Greens aerification
3 days
July 8-12
Fighting Joe
Fairways/greens aerification
3 days
July 22-26
Schoolmaster
Fairways/greens aerification
3 days
September 9-13
Fighting Joe
Greens aerification
14 days
September 23-27
Schoolmaster
Greens aerification
14 days
November 11-15
Fighting Joe
Greens aerification
3 days
November 25-29
Schoolmaster
Greens aerification
3 days
Location
Muscle Shoals
Book a tee time

990 SunBelt Parkway

Muscle Shoals, AL 35661

256-446-5111

Printable scorecards