RTJ GOLF TRAIL AT HAMPTON COVE
HUNTSVILLE | 54 HOLES
The Northern gateway to the Trail is Hampton Cove in Huntsville, a 54-hole facility with terrain that drastically changes from one side of the property to the other.

The Highlands Course is one of the most picturesque and playable courses on the Trail. Long, waving grasses frame dramatically, rolling terrain and beautiful bent grass greens. Completely different from the Highlands is the River course, the only Robert Trent Jones layout in the world designed without a single bunker. The River course is a throwback to the way courses were built long ago, where dirt was merely pushed up to create the greens and tees, leaving all else, including massive oak trees, as is.
COURSES AT HAMPTON COVE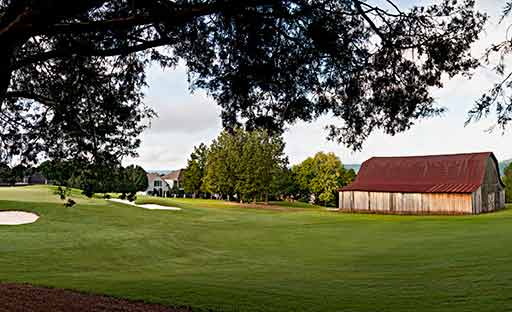 HIGHLANDS
Course Tour
One of the most recognizable landmarks on the Trail is the old mule barn beside the fifth hole, while the finishing holes on the Highlands course are among the most scenic and challenging on the Trail.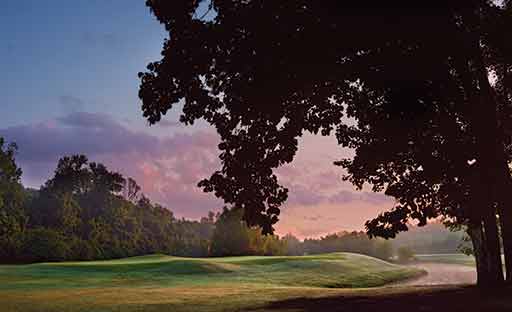 RIVER
Course Tour
The River course is laid out on former soybean fields in the flood plain of the Flint River. With water on 16 of the 18 holes, the River course will challenge your shot-making ability.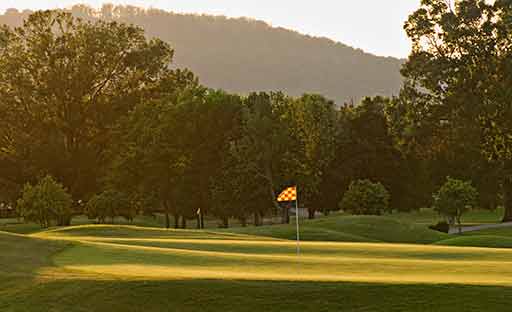 SHORT COURSE
The Short Course is open and links-like, with water in play on 11 holes. It is a great venue for golfers of all skill levels and alternating tees allow golfers to hit every club in their bag.
EVENT REQUEST
Relax...coordinating an event at Hampton Cove is much easier than you think! Our staff has experience planning golf events that range from as small as a 16 player group outing to as large as a 300+ player corporate tournament, as well as everything in between. With the array of other options we can also provide, including food & beverage, contests, and scoring, our staff has what it takes to make your golfing experience match all your expectations.

But just because we are a golf course does not mean that is all that we do! We are also available for non-golf related functions, including weddings and receptions, parties, reunions, wedding/baby showers, corporate meetings...the possibilities are endless! Let us cater your event to meet your exact needs as you sit back and enjoy the beautiful landscape surrounding you and your guests.

Please submit the form below and a member of our staff will contact you.


MAINTENANCE SCHEDULE
Maintenance practices are weather dependent; changes may occur last minute as a result. Understand we will make every effort to follow the schedule presented. Please contact the golf shop to inquire relative to any adjustments.

The driving range will be closed for at least part of the day each Tuesday.
2023
Date
Course
Activity
Recovery
October 17-18
Highlands
Overseed tees/fairways
None
October 30-November 3
Highlands
Greens aerification
14 days
2024
Date
Course
Activity
Recovery
Tuesdays 9:30 AM-1:30 PM May 7-October 1
River
Course maintenance
None
Wednesdays 9:30 AM-1:30 PM May 8-October 2
Short Course
Course maintenance
None
May 20
Highlands
Greens venting
None
May 28-31
Highlands
Greens aerification
14 days
June 3-7
Short Course
Greens aerification
21 days
Mondays June 17-August 26
Highlands
Course maintenance
None
July 8-12
River
Greens aerification
21 days
September 9
Highlands
Greens venting
None
October 9
Short Course
Pre-emerge & greens venting
None
October 15
River
Pre-emerge & greens venting
None
October 22-23
Highlands
Overseed fairways
None
October 28-November 1
Highlands
Course aerification
14 days
Location
Huntsville
Book a tee time

450 Old Highway 431

Owens Crossroads, AL 35763

256-551-1818

Printable scorecards