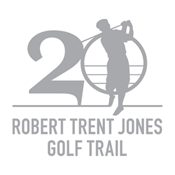 What started as a concept to enhance the image of a state has turned out to be one of the most successful achievements in the golf industry.
In 1992 the first golf courses opened on the Robert Trent Jones Golf Trail in Alabama. The vision of creating a golf trail came from Dr. David G. Bronner, the CEO of the Retirement Systems of Alabama. The golf course designs started with Robert Trent Jones after coming out of retirement and have continued with Roger Rulewich, Jones' protégé. The original courses opened in 1992 and additional courses have been added over the years. In 2011, greens were replaced on several courses. Silver Lakes underwent a significant renovation after tornado damage in 2011.
Now that all 26 courses on 11 different sites are up and running, you are the one who gets to celebrate. World-class golf remains an exceptional value on the original golf trail. Here are a few highlights for the Trail's 20th Year:
$20 on 20
On the 20th day of each month in 2012, enjoy a round of golf on the Robert Trent Jones Golf Trail for $20. Reservations can be made within seven days of the desired date and are available through the local RTJ sites. Not valid at Ross Bridge or Lakewood Golf Club. Golf carts are not included in the price and play is based upon availability. For $20, the hardest part may be deciding which location to challenge.
RTJ Trail Card/Loyalty Program
Golfers have been very loyal to the Trail, in fact naming it Alabama Tourism's Attraction of the Year for 2010. To say thanks, the Trail is upgrading its traditional Trail Card by adding a loyalty program to it. After purchasing the Trail Card, golfers will enjoy their seventh round of golf for free. The Trail Card is available to Alabama residents or those living within 100 miles of the state line. Trail Cards are $35 until January 1 and $39.95 after that date. In addition to the seventh round free, the Trail Card offers discounts on golf, merchandise, range balls and golf instruction at the RTJ locations.
Trail Adds Platinum Memberships
Membership has its own privileges and our inaugural Platinum Members of Alabama's Robert Trent Jones Golf Trail will have plenty. They receive unlimited greens fees all year to nine of the RTJ sites and reduced greens fees at Ross Bridge and Lakewood Golf Club. They can enjoy unlimited range privileges at their home site plus their own private locker, guest privileges at the RTJ Trail Card rate, 15% off merchandise and clubhouse meals plus 10% off golf lessons. Platinum Memberships start at $1800, considerably lower than a country club membership, and members have unlimited access to RTJ's world-class golf. Payment options are available annually, quarterly and monthly. Platinum Membership can be purchased at any RTJ Trail location. Individual, couple and family memberships are available.
10 Millionth Trail Visitor
The Robert Trent Jones Golf Trail is on track to have its 10 millionth visitor in 2012.
Updated 20th Logo
The Robert Trent Jones Golf Trail will be using an updated logo throughout the 20th year. Based on the traditional golfer in knickers, the logo will be featured on limited edition merchandise at the RTJ pro shops and online. The logo will appear in all RTJ ads and will be showcased in an expanded version of the 2012 Trail Guide.
Packages, Events and Promotions
A major celebration is being planned for May in Birmingham. Each location will be celebrating the milestone and special packages and promotions will be added throughout the year and will be highlighted on RTJGolf.com.