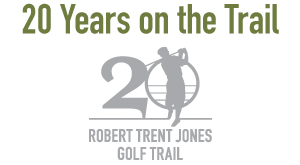 Happy New Year from Alabama's Robert Trent Jones Golf Trail! We invite you to celebrate our 20th anniversary by booking a package and saving big with the Trail's Spring Specials.

Tee times are quickly filling up, so book early for the best availability. Contact the Trail's Reservations Department to reserve your special or to learn about other offers the Trail is running in honor of it's 20th anniversary.



Can't make it this spring?
We book packages up to 7 months in advance so pick any time that works for you! World-class golf, not a world away.